Congratulations to the Power of 1 Leaders!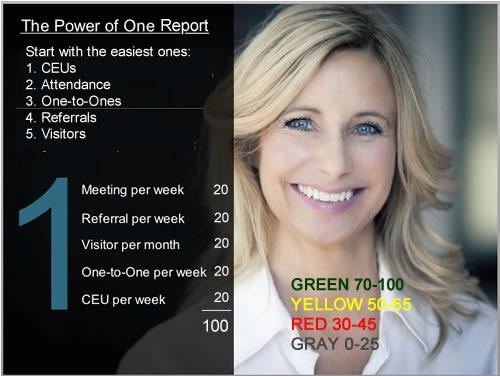 CONGRATULATIONS to the BNI San Francisco, San Mateo and Santa Cruz members listed below who scored 60 or more Power of 1 points over the last 6 months.
You are directly contributing to the health of your chapter and the profitability of your chapter members!
Success in BNI is directly tied to the Five Key Fundamentals of BNI Success listed below. IT'S ALL ABOUT THE POWER OF ONE.
Each Power of One element is scored out of a maximum of 20 points:
1. Referrals (Ref). Goal: Four referrals per month
2. Visitors (Vis). Goal: One visitor per month
3. Absences (Abs). Goal: 0 (but less than 3 in 6 months)
its. Goal: Four CEUs / month
4. One-to-ones (121). Goal: Four one-to-ones per month
5. CEUs (One hour = One CEU). Continuing Education Units. Goal: Fours CEUs per month
In addition to the Power of 1 elements, we track a metric we call Above the Line (ATL). ATL is a combination of referrals plus visitors. The goal is an ATL percent of 100% which represents 1 referral or visitor per week.
| Power of 1 | Member | Chapter | Profession | ATL % | Ref | Vis | Abs | 121 | CEU |
| --- | --- | --- | --- | --- | --- | --- | --- | --- | --- |
| 85 | Amling-MacFarland, Claudia | Santa Cruz Business Builders BNI | Promotional Products | 79% | 9 | 10 | 0 | 63 | 30 |
| 85 | Dewolf, Michelle | Constant Growth Menlo Park | Nutritionist | 183% | 34 | 10 | 0 | 40 | 7 |
| 85 | Johnson, Akeisha | Golden Ideas | Business Consultant - Management | 152% | 28 | 10 | 0 | 49 | 10 |
| 80 | Dale, Adrienne | Embarcadero | Business Consultant - Management | 204% | 33 | 14 | 1 | 31 | 0 |
| 80 | Jaap, Christopher | Golden Ideas | Attorney - Business | 240% | 54 | 6 | 0 | 60 | 0 |
| 80 | Lambert MacLeod, Norma | Coastside | Attorney - Family | 125% | 19 | 11 | 1 | 20 | 4 |
| 80 | Rissell, Melody | Prosperity Partners | Employment/Labor Law | 200% | 1 | 1 | 0 | 4 | 0 |
| 80 | Shikina, Alice | Business Builders | Mediator Services | 164% | 25 | 16 | 0 | 28 | 0 |
| 75 | Bains, Kamaljit | Professional Alliance | Bookkeeping | 61% | 9 | 2 | 0 | 32 | 38 |
| 75 | Castongia, Eric | Coastside | Residential Real Estate | 158% | 24 | 14 | 0 | 21 | 4 |
| 75 | Duke, Dave | Dynamic Connections | Computer Services | 84% | 19 | 2 | 0 | 23 | 27 |
| 75 | Fairgrieve, Rose-Ellen | BNI Stars | Attorney - Employment/Labor | 150% | 31 | 5 | 0 | 30 | 0 |
| 75 | Gibson, Susan | Thank Goodness Its Wednesday | Services for Seniors | 71% | 8 | 4 | 0 | 17 | 4 |
| 75 | Grindlinger, Dani | Golden Ideas | Business Consultant - Organization & Process | 80% | 14 | 6 | 1 | 58 | 12 |
| 75 | Hui, Venetia | BNI Stars | Personal Services (Other) | 104% | 25 | 0 | 0 | 166 | 20 |
| 75 | Ross, Michael | BNI Stars | Financial Advisor | 82% | 8 | 1 | 0 | 36 | 20 |
| 70 | Franzen, Sharone | BNI Stars | Acupuncture | 158% | 36 | 2 | 0 | 54 | 10 |
| 70 | Yu, Elisa | Constant Growth Menlo Park | Business Training/Coach | 96% | 14 | 9 | 1 | 50 | 12 |
| 70 | Yu, Jenny | Golden Gate Networking | Health, Life, Disability | 144% | 33 | 3 | 0 | 39 | 0 |
| 65 | Becerra, Jerry | Embarcadero | Commercial Insurance | 74% | 13 | 4 | 0 | 26 | 0 |
| 65 | Cullen, Pete | Santa Cruz Business Builders BNI | Residential Real Estate | 58% | 9 | 5 | 0 | 36 | 7 |
| 65 | Finkle, Sharon | Prosperity Partners | Garden and landscape architect | 112% | 23 | 5 | 1 | 31 | 2 |
| 65 | Lehr, Michael | Golden Ideas | Estate Planning Law | 76% | 14 | 5 | 1 | 8 | 28 |
| 65 | McFerrin, Colleen | Pacific Horizon | Residential Real Estate Agent | 100% | 23 | 3 | 1 | 26 | 5 |
| 65 | Ziony, Dan | Constant Growth Menlo Park | Residential Real Estate | 113% | 22 | 5 | 0 | 19 | 5 |
| 60 | Ching, Craig | Coastside | Business Law | 108% | 22 | 4 | 0 | 18 | 0 |
| 60 | Chua, Patrick | Golden Ideas | Property & Casualty Insurance | 91% | 9 | 1 | 0 | 21 | 0 |
| 60 | Cronan, Shannon | BNI Stars | Residential Real Estate Agent | 125% | 30 | 0 | 0 | 82 | 0 |
| 60 | Davidson, Johnell | BNI Stars | Health & Wellness (Other) | 71% | 13 | 4 | 0 | 84 | 2 |
| 60 | Faiella, Anastasia | BNI Stars | Event & Business-Service (Other) | 129% | 30 | 1 | 1 | 78 | 0 |
| 60 | Golden, Shelley | Ace Networking | Personal Stylist | 46% | 7 | 5 | 1 | 81 | 0 |
| 60 | Hagen, Kirsten | Mavericks | Residential Real Estate | 104% | 23 | 4 | 0 | 21 | 6 |
| 60 | Heinen, Jeanette | BNI Stars | Life and Disability Insurance | 17% | 4 | 0 | 0 | 53 | 62 |
| 60 | Jacobs, Scott | Embarcadero | Financial Advisor/Consultant | 83% | 15 | 4 | 2 | 48 | 0 |
| 60 | Kee, Amy | Dynamic Connections | Health & Wellness (Other) | 92% | 21 | 2 | 0 | 33 | 6 |
| 60 | Miller, MA, Marcus | Golden Ideas | Residential Real Estate | 120% | 29 | 1 | 0 | 29 | 5 |
| 60 | Pisani, Juliana | BNI Stars | Real Estate Law | 100% | 13 | 0 | 0 | 36 | 2 |
| 60 | Reinholdt, Carolyn | Business Builders | Residential Real Estate | 76% | 19 | 0 | 0 | 38 | 7 |
| 60 | Sorimachi, Sophie | Business Builders | Personal Services (Other) | 100% | 23 | 2 | 0 | 123 | 0 |
| 60 | Stella, Paul | Golden Ideas | Residential Mortgages | 76% | 16 | 3 | 0 | 31 | 14 |
| 60 | Sullivan, Rose | Mavericks | Residential Mortgages | 73% | 17 | 2 | 0 | 36 | 8 |
| 60 | Tandy, Peter | Thank Goodness Its Wednesday | Digital Marketing | 54% | 3 | 10 | 0 | 59 | 2 |
| 60 | Tolu, Bahar | Thank Goodness Its Wednesday | Payroll Services | 67% | 10 | 6 | 0 | 18 | 2 |
| 60 | Visser, Nano | BNI Stars | Personal Services (Other) | 121% | 28 | 1 | 1 | 61 | 14 |
| 60 | Won, Jason | Prosperity Partners | Physical Therapist | 72% | 15 | 3 | 0 | 38 | 1 |